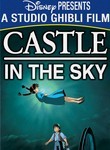 3 reviews for

Laputa Castle in the Sky

(1986)
---
Reviews for Laputa Castle in the Sky (3)
Laputa Castle In The Sky 10/10 Fave film of all time. Beautiful, exciting and funny. Plus a child gets pistol-whipped.
Reviewed by DeanVipond
on 25th June 2010
Castle in the Sky 8/10 Best Hayao Miyazaki film I've seen to date. Tip:Never catch a floating girl, you'll end up a pirate
Reviewed by davymacca
on 25th June 2010
Laputa Castle in the Sky 10/10 This is actually my most favourite film ever. Studio Ghibli at its absolute finest.
Reviewed by SeriousStu
on 24th August 2009